In Memory of Scout About II
July 27th 1995 - July 6th 2007
By Scout's human - Mary Wright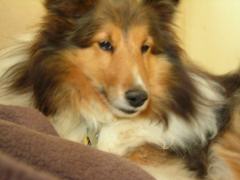 Beloved companion, my funny boy. He brought me such joy. The titles were grand, but the way he tried so hard for me is what made him special. ALWAYS AT MY SIDE. ALWAYS.
I could list all his accomplishments, but they don't matter any more.
He was the best dog any one could hope to have and I shall miss him.