Welcome to the wonderful and exciting world of dog agility! Agility is a great way for you and your dog to enjoy each other and have lots of fun, not to mention a great workout!

Agility is similar to equestrian show jumping. It is a series of obstacles including but not limited to: jumps, tunnels, dog walks, A-frames, and weave poles which the dog must negotiate without faults within a standard course time period. The dogs who complete the obstacles correctly may qualify in a trial.

Regardless whether you end up competing or not, agility is a sport for everyone and anyone who loves their dog and wants to have some fun. All people and dogs are welcome into the sport of agility, including mixed breeds. When taught patiently, dogs absolutely LOVE to do agility. Watch out though, agility is highly addictive!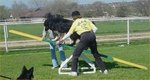 All levels of classes - introductory, intermediate, advanced/competition level - are offered year round and are held at Brazos Valley Boarding Kennels.
Visit our Contact Us page if you would like to contact WAG for more information.